Submitted by

Anonymous (not verified)

on Mon, 06/25/2012 - 00:00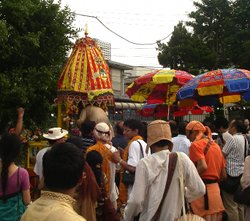 Odisha Community Japan (OCJ) celebrated 2012 Rath Yatra in Saiwaicho Elementary School of Kawasaki on June 24th together with ardent devotees and dignitaries from Indian and Japanese establishments. It is the fifth consecutive year that OCJ has organized this traditional Indian chariot festival (matsuri) in Japan. During the event a 3-meter tall chariot was pulled by participants in the school ground. The chariot pulling continued for more than 40 minutes amidst great sankitarns by ISKCON devotees and enthralling ghanta beats by other participants.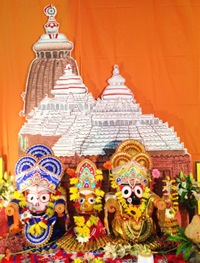 OCJ received encouraging messages from Mr. Naveen Patnaik, Chief Minister, Odisha, India, H.E. Mr. Alok Prasad, Ambassador of India, Mr. Abe Takashi, Kawasaki City Mayor and Mr. Ryuko Hira, Honorary President, Indian Chamber of Commerce and Industry Japan.
OCJ had the honor to have Mr. Atsushi Miura , Vice Mayor, Kawasaki City and Dr. Shivaji Chadaram, Science Councelor, Embassy of India for the inauguration of Rath Yatra and the cultural programs. Both of them inaugurated the cultural program, which was performed by professionals as well as school kids. The program started with an Odishi dance performed by Ms. Sachiko Ito and Ms. Kiyoko Obayashi. That was followed by an enchanting Kathak dance by Ms. Monisa Nayak, Ms. Hemant Vidyagauri, Ms. Nilakshi Khandkar, Ms. Mansi Saxena and Ms. Amrapali Bhandari.
Ms. Nayak is a famous Kathak dancer of India and has been performing on international shows around the globe. She and her group were kind enough to extend their stay in Tokyo specially to perform on Rath Yatra.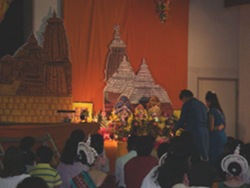 These two shows were followed by several performances given by kids of Odisha Community Japan, Tender Heart International School Kindergarten, Saiwai Cho Elementary School, Dance & Beats, Dhinka Chika Group and Global Indian International School. The cultural program ended with some great music by the Omkara Band of Kawasaki.
Among many other prominent participants, OCJ had the pleasure of having Mr. Terao Uichi, President, Kawasaki International Centre, Mr. Kaneko Shinichiro, Principal, Saiwaicho Elementary School, Kawasaki Mr. Baliarsingh, Country Head, Bank of India and Mr. Pra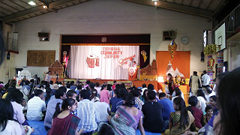 dhan, CEO, New India Assurance.
This event cannot be realized without the kind supports from Kawasaki City, Kawasaki International Center, Kawasaki Board of Education, Saiwaicho Elementary School. Embassy of India, sponsors, patrons and many others besides OCJ members. OCJ would like to thank all of them for their generous support and cooperation for the grand success of Rath Yatra 2012.
The event was reported by several newspapers and tv channels.
Pictures:
https://picasaweb.google.com/100469482977680778706/RathYatraJAPAN2012?authkey=Gv1sRgCKWGrOfSreyffg&feat=email
Videos:
1) http://www.youtube.com/watch?v=jSQlwbt7njk&feature=youtu.be

2) http://www.youtube.com/watch?v=0_r-mPvm_pA&feature=youtu.be