Submitted by

KumarSai

on Mon, 07/20/2015 - 20:49
The Odisha community Japan (OCJ) along with the synergistic cooperation from ISKCON (Tokyo) members undertook the Ratha Yatra celebrations ( Ratha-Yatra ) in the land of rising sun, JAPAN. Keeping up with the customary tradition of Ratha Yatra, the deities Lord Jagannath along with siblings Lord Balbhadra and sister Subhadra were taken in the famed Ratha Yatra (car festival ) at the Kawasaki city, Japan on 19th July 2015. This was the 8th consecutive year for OCJ to hold Rath Yatra in Japan and 4th consecutive year in Kawasaki.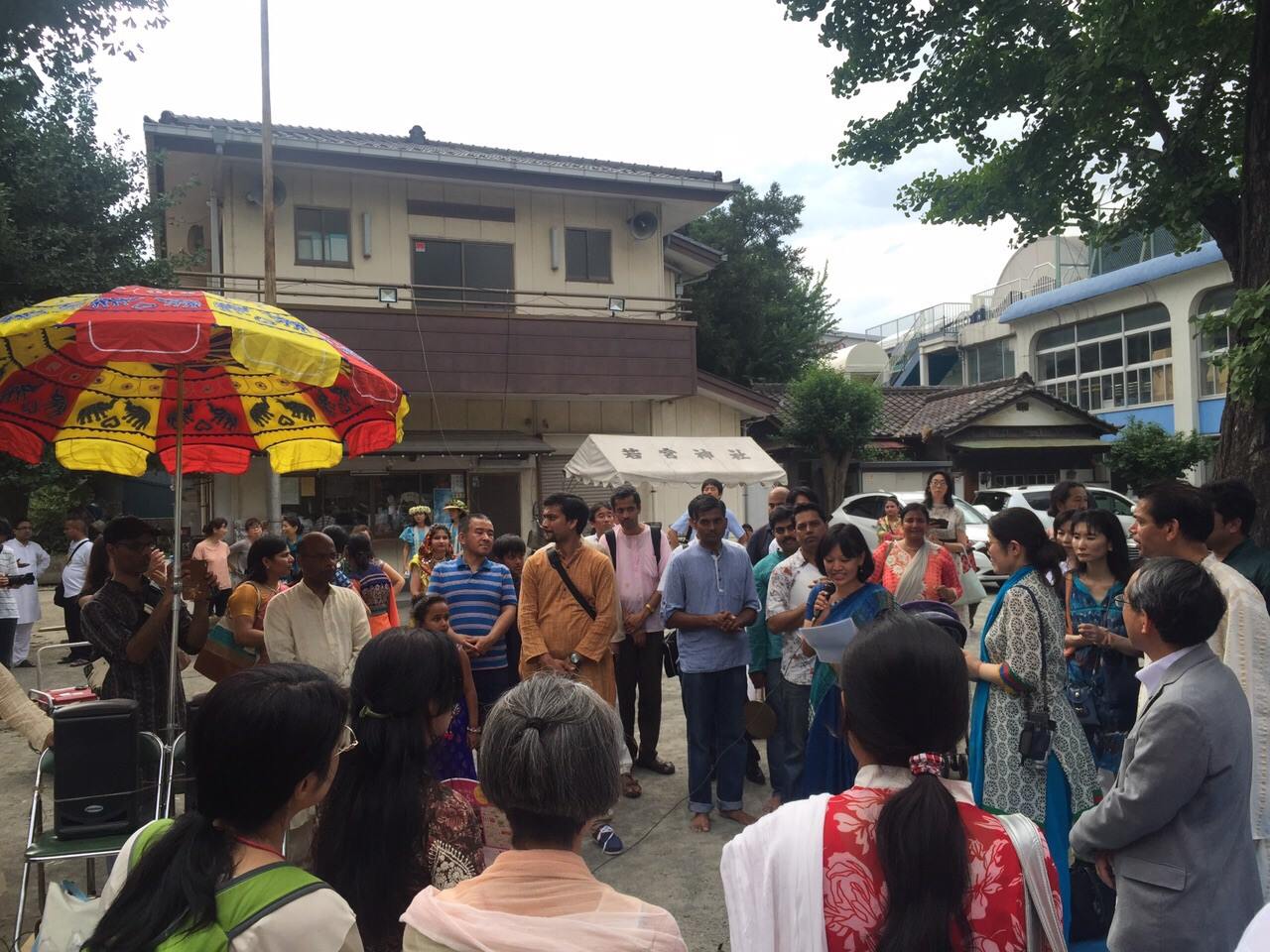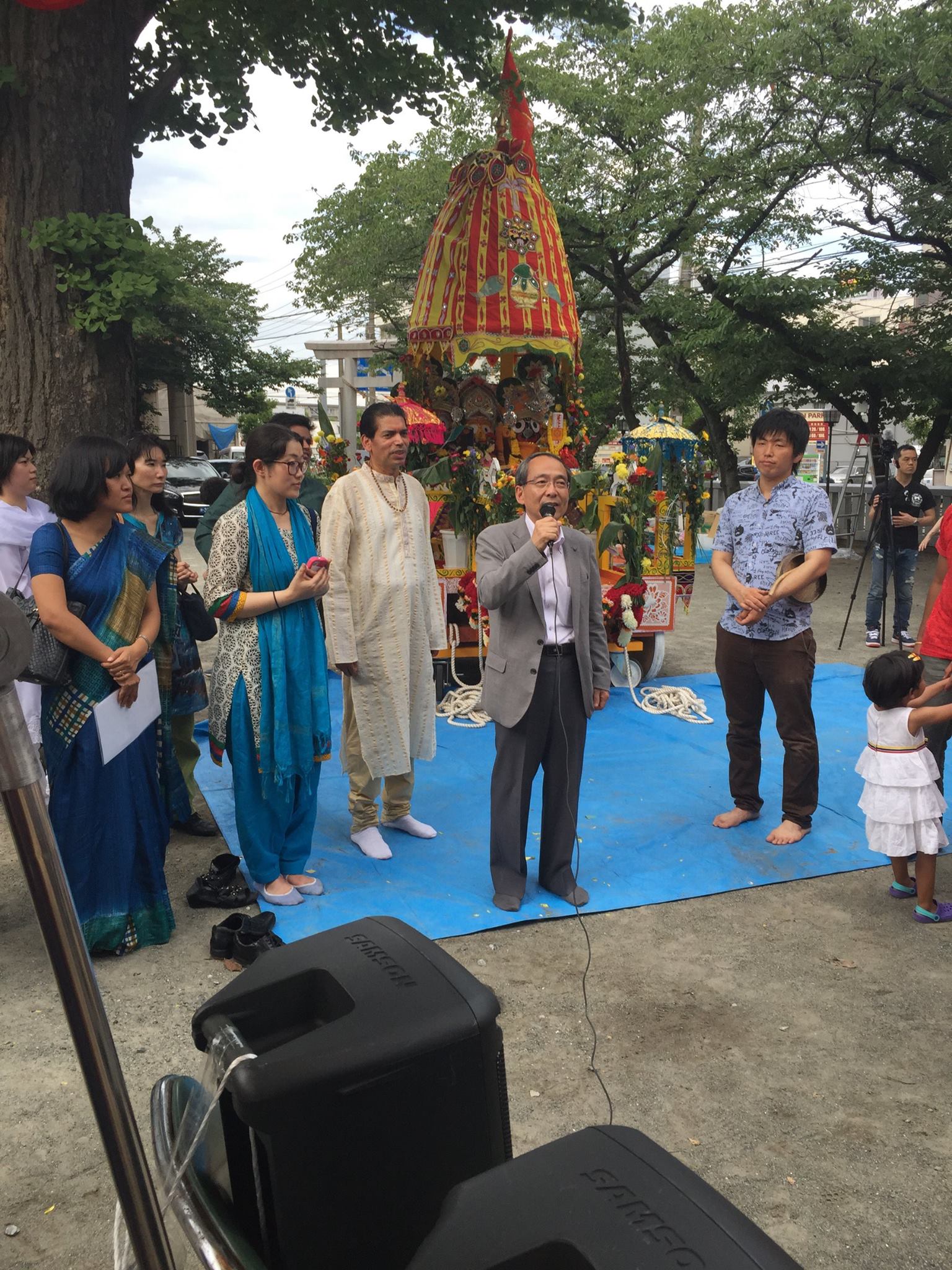 With a gathering of 500 + people covering various communities and nationalities, the celebrations started with the "pahandi", where the deities were brought to the chariot amidst ceremonious holy chants and playing cymbals. Mr. Munindra and Mr. Ram conducted customary worship rituals of the deities. After the conventional introduction by OCJ President, Mr. Swadhin, followed by words of appreciation from the Kawasaki City vice-mayor Mr. Miura, Cultural Secretary of Indian Embassy Ms. Saiawi and President of Indian Chambers of Commerce Mr. Hira the "chera pahanra" ( traditional sweeping ) of the chariot, was carried out by them. The host Wakamiya Shrine chief priest Ms. Nakamura and several other guests also spoke about the significance of the festival, highlighting the efforts put up by the OCJ for the last 7 years in observing the Ratha Yatra in Japan.
Video Summary:https://youtu.be/lmcPfs_phcU

Amidst much regal fanfare, the procession started from the Kawasaki shrine at around 4 pm coupled with a spirited "sankirtan" of the ISKCON group members and the lively chants of "Jai Jagannath". A group of magnificent Japanese drummer kids energized the volunteers with their enthralling performances during the pulling of the chariot. The Kawasaki city police was kind enough to manage the traffic arrangements to facilitate the parade.

With curious onlookers, and increasing people adding up to the procession, the momentum was further pepped up by the first performance by Ms. Sachiko Ito, a famous Odissi dancer, paying her artistic obeisance to the deities. Her performance was well applauded by one and all.

With another splendid dance act was performed by a group of indian and Japanese performers on an Indian local folk lore led by Ms. Mayuri. As the parade completed nearly half of its loop, the Japanese drummer kids performed once again, amusing and enthralling the people with their bubbly enthusiasm.
During the rest half of the parade, an impulsive act of few volunteers to dance to the tunes of Indian music, the mark the festivity of the event, roped in almost all of the participants. This indeed turned to be the highlight of the event, where maximum attendees took part in.
As the chariot-pulling came to an end, with the chariot heading back towards the shrine, a sumptuous meal comprising of Indian delicacies was provided to all the attendees, free of cost. Thereafter, few cultural events continued, viz., another marvelous performance by Ms. Sachiko Ito, followed by Hawaiian dance and students from Japan Dance School led by Ms. Kuroe, engaging the audience