Submitted by

Admin

on Fri, 01/02/2015 - 08:20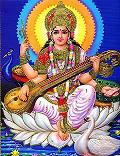 OCJ has celebrated the 2015 Saraswati Puja on 24th January, 2015 at at Iriya, Tokyo. Goddess Saraswati is popularly known as Benzaiten in Japan.
The puja was held with family and friends. The puja was followed by Prasad distribution, Lunch and Bhajan/Kirtan and cultural program.
Program:
Assembly: 10:30-11:00
Puja: 11:00 - 12:30
Puspanjali: 12:30
Prasad/Lunch: 13:00
Bhajan/Kirtan: 14:30 -15:30
Venue: ART INTERNATIONAL
1-17-11-1F, Iriya, Taito-ku, Tokyo
(1 minute walk from Iriya station, Tokyo Metro Hibiya line and 7-8 minutes walk from JR Uguisudani station).
Landmark: Behind Iriya post office.
Map:
http://bit.ly/mTFYoa
Participation fee: 1,500 yen per person for OCJ members and 1,000 yen per person for guests of OCJ.